Updated August 2, 2011
What's New: Keeps you up to date on new products and news.
Best Practices: Provides "Internet lead management best practice" insights on how to grow your business.
Product Training: Quick and easy tutorial videos on how to use our products.
Bookmark this page and share it with your colleagues.
What's New
Send-A-Quote, Updated! – We are proud to announce the much-anticipated Send-A-Quote update. The new SAQ features the ability to send walk-ins and phone-ups a pre-owned quote as well as a new-car quote. Simply input the consumer's contact info, select the vehicle of interest and send. The customer will receive a SmartQuote email within minutes. Watch the tutorial video HERE.

– We share successful sales and marketing strategies to grow your business in our bi-monthly webinars. View recorded webinars by ISDs and noted trainers or sign up for upcoming webinars.
Upcoming:
Aug 17, Amir Rezvani, DealerOn – Optimize your dealership's Online Presence.
Sept 14, Russell Blackstone, Hewlett VW – Learn how Russell re-defined the Hewlett VW internet process.
SmartQuote 2.0/SmartFollow 2.0 – Check out the exciting rich features of our second generation product! If you are interested in upgrading, contact your account manager.
Best Practices
CEO Insights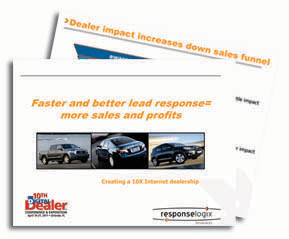 Automotive Innovators Webinar Series

Amir Rezvani, DealerOn
Join Amir as he discusses how to optimize your online presence across various media, platforms and sites.
August 17, 3PM (est) 12PM (pst)
Past Webinar Videos:
Criss Castle, General Sales Manager, Shawnee Mission Hyundai
Learn how Criss doubled sales, brought Shawnee Mission Hyundai from last to 1st, set new sales records & more.
"Internet" Ricky Lopez, Internet Director, Greenway CDJ
Learn how Ricky went from 100 internet sales a month to 170 in a couple months, as well as what tools he uses.
Cory Mosley, Mosley Automotive Training
Learn how to drive more BDC sales with better communication.


Training Videos
Keep on top of your ResponseLogix products and features with our dealer training videos.

Send-A-Quote tutorial video
Setting Pricing Rules in the Extranet tutorial video
Leasing Overview video
Quick Quote tutorial video